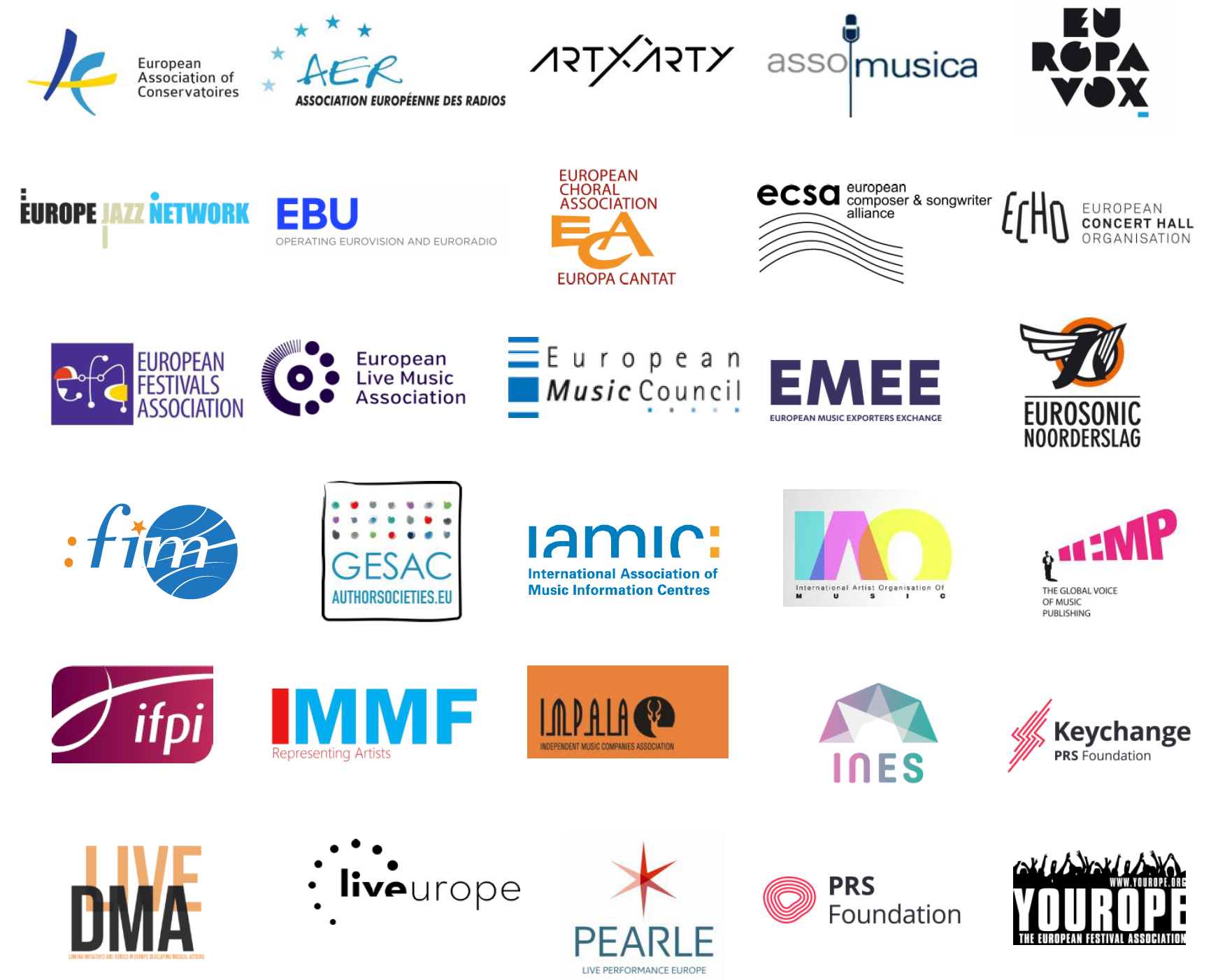 IAO alongside the main organisations of the music sector claiming a taylor-made EU music program – The "Music Moves Europe" Preparatory Action project.
Joint letter in support of a EU music programme
Dear President Juncker,
Today, the music sector is gathered in Brussels at the invitation of the European Commission.
Together, we are marking the launch of the "Music Moves Europe" Preparatory Action, a pilot project adopted by the European Parliament that will help test ideas and projects which could be replicated at a larger scale in the next generation of EU programmes.
Seizing the opportunity provided by this event, the undersigned organisations from across the spectrum are joining their voices to call on all EU institutions to endorse the idea of a dedicated EU music programme as part of the next multi-annual financial framework.
The music sector in Europe is very dynamic and an important contributor to jobs and growth, accounting for 1m jobs and over €25bn in turnover. Europe is home to some of the best composers, artists, music groups, concert halls, clubs, festivals, labels, publishers, producers, engineers, streaming services, music schools, radios etc. covering all music genres and styles. And millions of European are also actively making music, be it as amateurs or professionals.
The sector is vibrant and eager to grow, but it also faces significant challenges.
The music ecosystem must continue to shape and adapt to a fast-changing environment. The ways we listen, record, distribute and play music are constantly evolving. With these changes comes the need to update our tools and skills. All this costs time and money.
And of course, one of the most crucial challenges is meeting European citizens' appetite for culture and diversity, as part of their cultural rights. It is important to ensure that the widest diversity of European music can circulate and reach its audience, and that Europe's artists and citizens are encouraged to fully express their creative freedom.
The Preparatory Action is designed to be a first step towards filling a gap in today's EU cultural policy. The next step is a tailor-made EU music programme with a budget which is proportionate to its economic, social and cultural contribution.
Among other things, a fully-fledged music programme would help trigger more investment in the sector, boost diversity and increase the mobility of artists and repertoire across borders. Let's give ourselves the means to make this one of the EU's great success stories.
The signatories of this letter are committed to making this Commission project – which has already garnered significant cross-party support in the European Parliament – a reality.
We ask you to join us in support of a dedicated EU music programme with an appropriate budget corresponding to the sector's challenges.
To fully unlock the potential of the EU creative sectors, we join others in the larger cultural sector in urging all institutions to double the overall budget dedicated to culture. Adequate funding for culture is the essential foundation on which a genuine pan European cultural economy can be built.
Creativity is where Europe excels. Let's make our culture shine even brighter.
Supporting Europe's creative sectors is supporting its future.
Yours sincerely,
Signatories
EBU (European Broadcasting Union) – Nicola Frank, Head of European AffairsECA-EC (European Choral Association -Europa Cantat) – Sonja Greiner, Secretary GeneralECSA (European Composer and Songwriter Alliance) – Patrick Ager, Secretary GeneralECHO (European Concert Hall Organisation) – Louwrens Langevoort, President; Andrew Manning,Secretary GeneralEFA (European Festival Association) – Kathrin Deventer, Secretary General
ELMA (European Live Music Association) – Vincenzo Spera (Assomusica) President, Prof. Jens Michow (BDV) Vice-PresidentEMC (European Music Council) – Ruth Jakobi, Secretary GeneralEMEE (EuropeanMusic ExportersExchange) – Corinne Sadki (Bureau Export), President;Virgo Sillamaa (Music Estonia), Secretary General; Peter Smidt (Buma Cultuur), Vice-President Eurosonic Noorderslag – Peter Smidt, Creative DirectorFIM (International Federation of Musicians) – Benoît Machuel, General SecretaryGESAC (European Grouping of Societies of Authors and Composers) – Véronique Desbrosses, General ManagerIAMIC (International Association of Music Information Centres) – Kostas Moschos, PresidentIAO (International Artist Organisation) – Nacho García Vega, PresidentICMP(International Confederation of Music Publishers) – Coco Carmona, Director GeneralIFPI (International Federation of the Phonographic Industry) – Lodovico Benvenuti, Director European OfficeIMMF (International Music Manager Forum) – Volker May, ChairmanIMPALA (Independent Music Companies Association) – Helen Smith, Executive ChairINES (Innovation Network of European Showcases) – Magdalena Zschunke, Project CoordinatorLive DMA (European network for music venues and festivals) – Audrey Guerre, CoordinatorLiveurope – Elise Phamgia, Project Coordinator
Pearle*(Live Performance Europe) – Anita Debaere, DirectorPRS Foundation – Vanessa Reed, Chief ExecutiveYourope – Christof Huber, General Secretary